Nowadays, the only thing parents are more concerned with than their children's education is how they will become successful in life. We want our kids to go to the best colleges and universities. That's why it's essential to make sure your child gets a top-notch preschool education. 
And that's where Preschool South Park comes in. This school offers you a chance to get your child into a world-class preschool for an affordable price. This school provides top-notch education, but it also provides quality childcare services for parents looking for something else from their child care provider. Parents need to educate themselves on what kind of preschool fits their lifestyle and family's needs.
Now, you're probably thinking that the price tag for this service must be sky-high. But in fact, Preschool South Park's pricing is incredibly affordable. Their services are priced to provide value to each family within their budget. Whether your child receives full-day or part-day preschool classes, the tuition fees are reasonable and affordable.
What is Important when searching for "Preschool South Park"?
If you are searching for "Preschool South Park," you have a busy schedule, so they offer a variety of class schedules. Whether your child is in full-day or part-day classes, you'll have peace of mind knowing that your kids are being cared for while you're working. The teachers at the school are all highly educated and have extensive backgrounds in early education to help your child get ahead of other students.
South Park Preschool is dedicated to helping kids learn and grow with their peers in the South Park area. If this sounds like something that might work for your family, give them a call today to schedule your child's first day. 
The Learning Center of South Park preschool offers an incredible service for families in the South Park area. The earlier that children learn, the better their chances are of becoming successful in life. This school offers parents so many reasons to feel confident with their choices for preschool classes. 
The last thing that sets us apart from other schools (when you're searching for "Preschool South Park") is how affordable their classes are. Whether you choose full-day or half-day courses, there are flexible options for choosing from. These options are priced in a way that fits your budget to get the most out of your educational dollar.
When should you send your child to preschool?
If your child is ready to start preschool, you must find the right school for them. The ages at which children can enter these programs vary depending on schools and individual state laws. However, it's generally accepted that children four years old are ready to begin kindergarten. 
Parents need to know when the best time is to send their child to preschool. Ideally, kids should start attending school at the age of four. If children are too young, they can't learn as much and won't be ready for kindergarten once they get there. But if your child is older than four years old, it's still a good idea to send them to Preschool South Park. This school offers an affordable option to help your child get a top-notch education and childcare service.
If you're looking for something more affordable, this is an excellent place.
What to consider when choosing a South Park Preschool?
When you're first looking for a preschool for your child, it's essential to understand what makes some preschools better than others. 
The following are qualities that set this particular school apart from its competition:
• A safe environment
• A focused curriculum and Education Program
• Qualified teachers
• Affordable pricing for preschool classes
These are just some reasons you should consider The Learning Center of South Park for "Preschool South Park." With affordable prices, a safe and nurturing environment, and high-quality education, this school is excellent for any parent looking to get the most bang for their educational buck.
As a preschool, it's essential to foster creativity and curiosity in your students. The Learning Center of South Park offers a curriculum that encourages independent learning while also helping each student learn the basics of reading, writing, and arithmetic. Every child is unique and learns at their own pace. That's why our South Park preschool offers a flexible curriculum and can accommodate the individual needs of every child.
What Is The Best Preschool in South Park?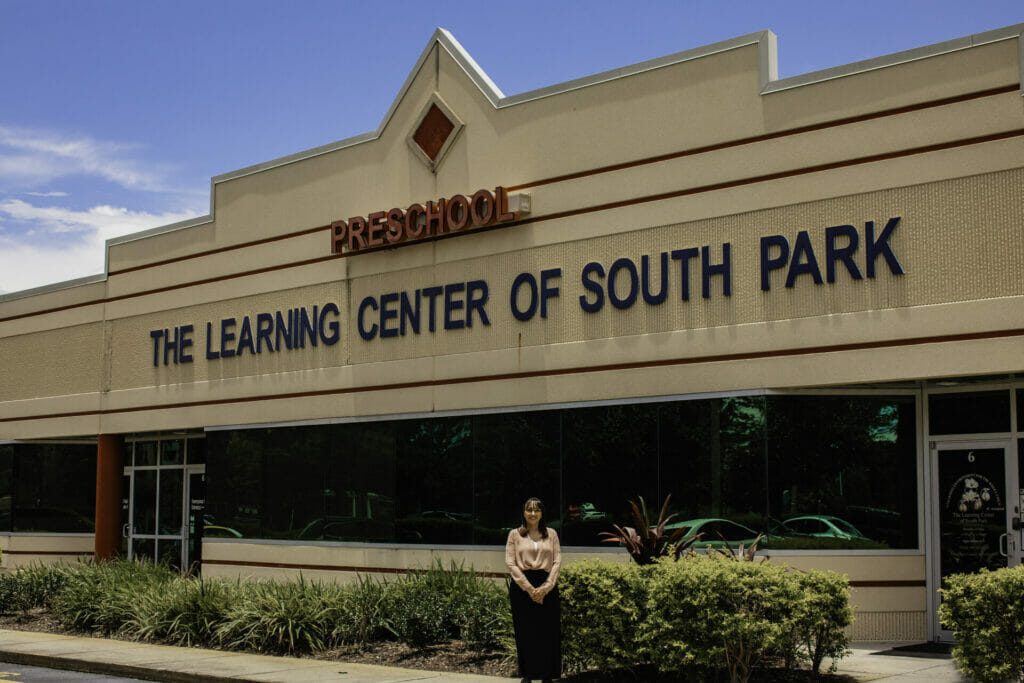 The Learning Center of South Park isn't just a traditional daycare or preschool in South Park, it goes above and beyond. Our curriculum focuses on social and emotional development and Sensory, Language/Communication, and Cognitive skills to help the whole child grow up. In our Orlando preschool, we use the TLC unique building block curriculum to teach our kids how to think and learn, and it works!
Our South Park preschoolers also learn about physical development, making new friends, and dealing with emotions like anger or sadness.
Our teachers work hard every day to help our little friends learn how to be kind and respectful to each other. They show them what it looks like when people are kind and respectful to each other.
Their job is to make sure that kids learn about life by doing things that make sense. They do this through hands-on activities all year.
We think this is what makes The Learning Center of South Park stand out as a real preschool in Orlando because it is so different from other places.
You can also see it on our Facebook Reviews where parents are giving us the best feedback.
If you want to see our complete review of the best daycares in South Park, click here.
What Are the Benefits of Preschool South Park To My Child?
The Learning Center of South Park preschool is highly regarded, with several clear benefits to sending your child here. 
One of the most significant benefits in choosing this preschool in South Park is that your child will earn a world-class education. Keep in mind that children who attend preschool are more likely to go to college and graduate than those who don't. The curriculum at our South Park preschool is designed to help your child succeed in life. The school also focuses on character development, which parents are looking for.
There are many benefits to enrolling your child in preschool. Most preschools offer hands-on lessons that focus on developing fundamental skills, including how to communicate with teachers and peers, express themselves orally, and interact appropriately with their class. These programs also prepare young children for formal education by teaching them how to interact with their peers and how school works. Preschools also give children the chance to build friendships, social skills, and self-confidence as they listen and learn from their teachers and classmates.
There are many benefits of sending your child to preschool. The first benefit is that you will feel safe knowing your child is in a structured and supervised environment. Preschool classes provide children with a place to learn new skills before entering elementary school.
Another benefit is that preschools tend to teach kids through hands-on experiences, making the material more exciting and easier to remember.
Finally, most preschool programs encourage children to expand their creativity and curiosity by allowing them to explore their environment. They also focus on developing fine and gross motor skills by having children build blocks, color with crayons, jump rope, play dress-up, etc.
When you are searching for "Preschool South Park", The Learning Center is a preschool tailored to your child's needs and is an excellent option for those with busy schedules. The school focuses on science, technology, and math while also teaching your child how to play, explore, and grow.
Contact us today to find out more!