If you're a parent, you know that finding quality daycare can be a daunting task. You want to make sure your child is in good hands while you're at work, but you also don't want to break the bank. Daycare centers can be expensive, but they offer parents peace of mind knowing their children are being taken care of by professionals. So what exactly happens at a daycare center? In this blog post, we will give you a glimpse into a typical day at one.
What Is A Daycare Center Like For The Children Who Attend?
Do children spend all day playing at daycare? What is the average day like for a child who attends one of these facilities?
Most daycare centers are set up much like a preschool. There will be different areas for the children to play in, such as an area for puzzles and games, an art area, and sometimes even a tiny section for dramatic play. There will be a schedule that the children follow, which includes group activities as well as time to explore the different areas on their own. The children will sing songs, listen to stories, and learn simple concepts such as colors and shapes during group activities. They will also have opportunities to socialize with their peers during free play. Daycare centers provide a safe and nurturing environment for children to learn and grow.
The average daycare center is open from six in the morning until six at night. This gives working parents plenty of time to drop their children off before work and pick them up after their shift is over. Some daycare centers even offer extended hours for an additional fee.
What Is A Day Care Center Like For The Parents Who Drop Their Children Off?
A daycare center is a place where parents can drop their children off to be watched by someone else for a certain amount of time. This is usually so the parents can go to work or run errands. The daycare center will have a schedule of activities for the children and will also provide meals and snacks. The staff at the daycare center will also help potty train the children if needed.
It is important for parents to choose a daycare center that they feel comfortable with and that they feel their child will be safe at. They should also make sure that the daycare center is licensed and has all the necessary safety features. The staff at the daycare center should be able to answer any questions that the parents have. They should also be able to provide the parents with peace of mind that their child is in good hands.
Moreover, daycare centers are a place for socialization. Many children who attend daycare have an opportunity to interact with other kids their own age. This is especially beneficial for children who are not in school yet. It helps them develop social skills and learn how to get along with other kids.
How Do The Workers At A Daycare Center Keep Everything Running Smoothly?
The workers at a daycare center have to be organized and efficient in order to keep everything running smoothly. They typically start their day by arriving early to get the children settled in and ready for the day. Then, they spend the morning leading activities and helping the children learn and grow. After lunch, they spend time outside with the children, and then it's time for naps. In the afternoon, they do more activities with the children before it's time to go home. Throughout the day, they are constantly monitoring the children to make sure they are safe and happy. It's a lot of work, but it's also very rewarding.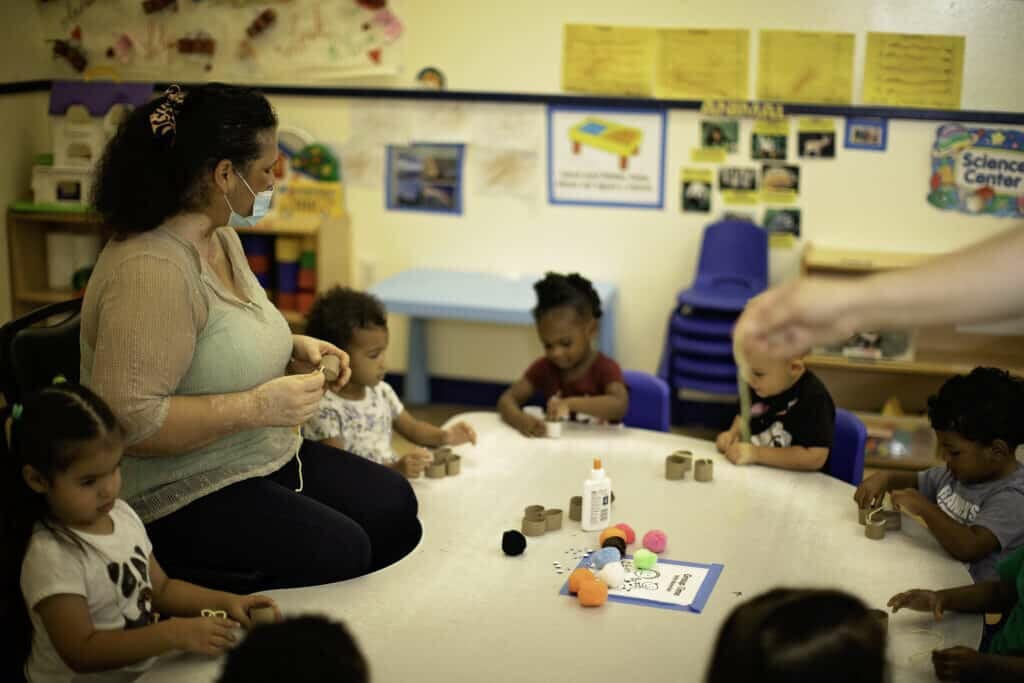 What Are Some Of The Challenges Faced By Those Who Work At Or Run A Daycare Center?
The challenges faced by those who work at or run a daycare center can be significant. First, there is the issue of finding qualified and experienced staff. Second, daycare centers must meet state and local regulations, which can be costly and time-consuming. Finally, dealing with parents who are often working long hours themselves can be challenging.
It is not surprising, then, that many daycare centers choose to partner with experienced and reputable companies like Childcare Management Solutions. By working with a company like CMS, daycare centers can focus on providing quality care for children, while leaving the business side of things to us. If you are considering opening a daycare center, or if you are already running one, we encourage you to contact us today to learn more about how we can help you. We look forward to speaking with you. Running a daycare center is no easy feat- it takes a lot of hard work, dedication, and patience. But it can be an incredibly rewarding experience, both for the children in your care and for you as the provider. So if you're up for the challenge, we say go for it.
How Has The Role Of Daycare Centers Changed Over Time?
The role of daycare centers has changed significantly over time. In the past, daycare centers were primarily places where stay-at-home mothers could drop their children off while they ran errands or went to work. Today, however, daycare centers are much more than that. They are places where children can learn and grow in a safe and nurturing environment.
There are a variety of different types of daycare centers, each with its own unique set of features. Some daycare centers are designed for infants and toddlers, while others cater to older children. Some daycare centers offer before- and after-school programs, while others provide full-day care. No matter what type of daycare center you are looking for, there is sure to be one that meets your needs.
When choosing a daycare center, it is important to consider the staff-to-child ratio. This is the number of adults who are responsible for supervising each child. The ideal ratio depends on the age of the children in the group. For example, the ratio for infants should be lower than the ratio for older children. This ensures that each child receives the individual attention he or she needs. The staff at a daycare center play a vital role in the care and education of their charges. They are responsible for providing a safe and nurturing environment in which children can learn and grow. When choosing a daycare center, be sure to ask about the qualifications of the staff. All staff members should have experience working with children and should be CPR and first-aid certified.
Are There Any Benefits To Sending Your Child To A Daycare Center?
There are actually quite a few benefits to sending your child to a daycare center. One of the main benefits is that your child will be exposed to a variety of different people and experiences. This can help them socialize better and learn how to interact with other kids their own age. Additionally, they'll get plenty of opportunities to play and explore. It is also a great way for you to get some much-needed free time.
Another benefit of daycare is that it can give you some much-needed free time. If you're a working parent, having someone else take care of your child for a few hours each day can give you some time to focus on your job or simply relax. And, if you're a stay-at-home parent, having some time away from your child can be a welcome break. Of course, every family is different and there's no one right answer when it comes to child care. But if you're considering a daycare center for your child, know that there are plenty of benefits to consider.
The Learning Center of South Park Is The Perfect Place For Your Children To Get A Quality Education.
Our teachers are highly qualified and passionate about teaching, and our small class sizes ensure each student gets the attention they need to succeed. We provide a nurturing environment where students can feel safe and comfortable taking risks in their learning. We believe that every child has the potential to be a leader, and we work hard to help them reach their full potential.
Contact us today at (407) 363-9325 to schedule a tour of our school! We would love to show you around and answer any questions you have.