The Learning Center of South Park
Your Premier Child Care School in Southwest Orlando
Welcome to the Learning Center of South Park!
Backed by our unique experienced in preschool tuition, The Learning Center of South Park goes beyond daycare. This is a nurturing environment for your children to grow and develop.
You have a great daycare school right in the heart of South Park, Orlando.
Unique among local schools, we operate the High Scope curriculum. Thanks to Helen Batie's years of teaching expertise with this system, you receive excellent levels of care. It's something special; something you'll not find at any other South Park daycare.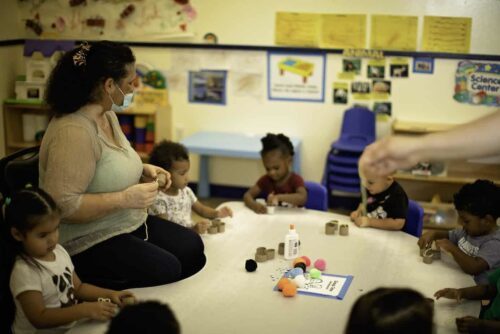 CONGRATULATIONS TO OUR VPK GRADUATES!!!
On Friday, 14th of May, 2021, we honored our students who earned their VPK from South Park Daycare graduation. It's wonderful to see you all so well prepared to go on to Kindergarten. We are delighted to see you as we know that you will all succeed in your educational endeavors. We wish you the best in your academic career.
Grab This Opportunity Now!
Our South Park Daycare Numbers are Quickly Filling Up!
In our South Park Preschool in Orlando, places are quickly being booked up.
To give your child the option of a place, please press the button below now and set up a 1:1 consultation with Director Helen Batie. She will show you how the school will meet the specific needs of your child.
This consultation is absolutely free of charge. There is no commitment. However, it does ensure your child is on the list, and will have a spot available for them at our South Park Daycare when they need it.
At our South Park Daycare in Orlando, we are confident our facilities and programs will meet and exceed your expectations. It is a safe, happy, and nurturing environment for kids. At our preschool, we only recruit the best, experienced, and most qualified teachers.
The proof is in the experience of other parents. We have a 5-star rating on Facebook, and these reviews & testimonials show you why.

"Oh my goodness! My child has been here for the past 2 months. Her life has changed completely. I keep saying this to everyone since she has learned so much and her behavior has improved tremendously. Everything about this place is perfect. Security is amazing, curriculum and also they treat the children with so much love. They teach them with a positive approach to everything. They help them channel their feelings and use their words.
I honestly wish I would've given my daughter the opportunity of starting at The Learning Center at a younger age and that they had Kindergarten and all the other grades that follow.
Mrs. Hellen, Mrs. Fio, Mrs. Marlene (her wonderful teacher) and all the other ladies in the staff are just amazing.
Thank you so much for all the love, effort and care you have for my princess. 

This is a day care that provides a nurturing, educational environment to children ages 6 weeks old to 5 years old. The staff is very friendly and really constructive in building up the children to be confident and smart. The curriculum is innovative and beneficial to the child because it requires the child to be a part of the learning process. The curriculum is called the High Scope curriculum with the Reggio Emilia teaching approach.
It is also a very clean facility with the teachers cleaning the facility during the day and a janitorial service coming every night to clean up the day care.
If you want your child to be nurtured, loved, fed, cared for, happy and educated, bring them to either the TLC of South Park or the TLC of Dr. Phillips. There is too many good things to be said about the TLC daycares!

Our son is 1 year old and he's a student of TLC of South Park since he was 6m. He loves the school, his teachers, his friends. We are very grateful for all the care they have with our precious son.
My son recently started VPK at TLC of South Park, and he loves it so much! He is learning something new everyday and having so much fun that he doesn't want to come home sometimes. We love how clean the facility is. Also love the indoor playground which means even on rainy days or too cold days, there's still play time! Thank you TLC for taking great care of my son and getting him ready for kindergarten.
Central Business District, Lake Nona Region, Millenia, Mercy Drive, Metro West, College Park, Baldwin Park, Lake Underhill, Thornton Park, Parramore, Mills 50, Lake Eola Heights, Rosemont, Wadeview Park, Lake Nona Medical City, Carver Shores, Milk District, Lake Fairview, Boggy Creek, Washington Shores, Colonialtown North, Colonial Town Center, Park Lake/Highland, Rose Isle, Florida Center, South Semoran, Park Central, Dover Shores East, Engelwood Park, Lake Fredrica, Rowena Gardens, Lake Dot, Florida Center North, Vista East, Rio Grande Park, South Eola, Orwin Manor, Malibu Groves, Lake Formosa, Clear Lake, Coytown, Lawsona/Fern Creek, Lake Weldona, Lake Holden, Princeton/Silver Star, Seaboard Industrial, Lake Nona South, Lake Mann Estates, Catalina, Colonialtown South, Lake Mann Gardens,
Bus Stops To The Learning Center of South Park Orlando, FL
Bus Stop In E South St and S Orange Ave To Day Care Center Orlando, FL
Bus Stop In N Orange Ave 1000 To Day Care Center Orlando, FL
Bus Stop In S Bumby Ave and Vine St To Day Care Center Orlando, FL
Bus Stop In Amelia St and Hughey Ave To Day Care Center Orlando, FL
Bus Stop In Edgewater Dr and Neal Dr To Day Care Center Orlando, FL
Bus Stop In W Kennedy Blvd and Kennedy Cir To Day Care Center Orlando, FL
Bus Stop In Lucien Way and S Lake Destiny Rd To Day Care Center Orlando, FL
Bus Stop In Forest City Rd and Weston Lane To Day Care Center Orlando, FL
The Perfect Location for Your Children!
You'll find our central South Park Daycare location is an excellent place for your children while you're going to work. 
We are located on Futures Drive, a quiet street running parallel to S. John Young Parkway. There is ample parking, and the neighborhood is both safe and peaceful.
Trying to locate our South Park Daycare? Use the map below for the full address and directions.