The Learning Center of South Park - Your
Orlando Preschool
While offering much of the flexibility and affordability of a traditional daycare or child care center, The Learning Center of South Park goes beyond this. Our curriculum focuses on social and emotional development while also incorporating Sensory, Language/Communications and Cognitive skills, for the purpose to develop the whole child. Our children in our Orlando Preschool learn how to think and how to learn using the TLC unique building block curriculum.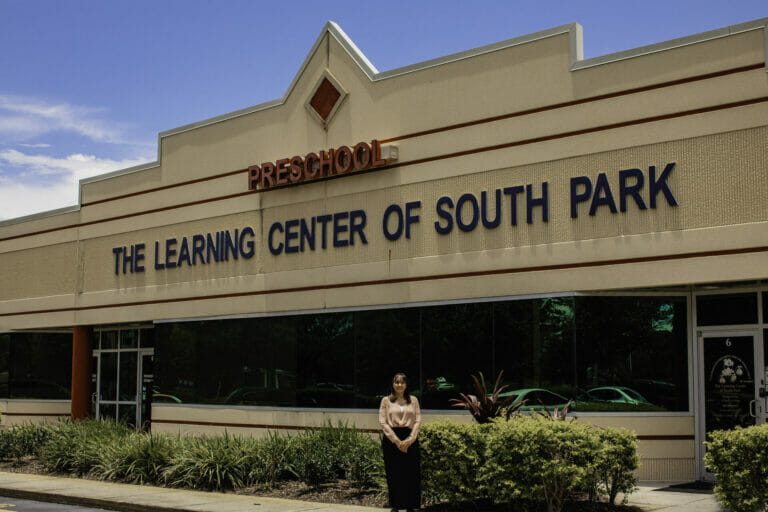 In addition to the Reggio-Emilia-inspired approach to learning, our Orlando preschoolers learn physical development, making friends, and how to manage feelings such as anger or sadness. 
To foster these skills, our teachers work hard every day by teaching our little friends and modeling for them what it looks like when people are kind and respectful towards one another.
Our staff members know that there's no better way for a little one to learn than by experiencing life lessons firsthand, which they do through various hands-on activities throughout the year.
We believe this sets The Learning Center of South Park apart as a true Orlando preschool experience.
Orlando Preschool vs. Child Care - What's the Difference?
You may have heard the term "preschool" used to refer to both preschool and child care. But this isn't entirely accurate because while they both offer great benefits for your little ones, there are notable differences that might influence which is best suited to your child's needs.
Firstly, there's a difference in the age groups covered by both types of school. Child care schools often cater to children from six weeks old, whereas preschool typically caters to children from 2 – 5 years old.
However, more significant is the question of emphasis. While children learn at child care, daycare and childcare centers focus on caring for children while their parents work. Every day, in addition to caring for their social and educational development, these facilities ensure that children have the essentials like food and rest to feel safe while away from home or with caregivers who may not have their best interests at heart.
At The Learning Center of South Park, we consider the whole child and foster learning set in a balance of structured environment as well as free play. We are an Orlando preschool defined by our focus on education and a well-defined creative curriculum. We believe that to be ready for Kindergarten, the teaching starts as early as with a three-month-old baby. The interesting factor is that our babies start learning while having a lot of fun.
Children that start at The Learning Center excel when they go to elementary school later on.
While offering the flexibility and affordability of a traditional daycare or child care center, The Learning Center of South Park goes beyond this. Our Orlando preschool program recognizes that all children develop the same way, i.e. from head to toes and inside out, but they all do it at a different pace. Each child, in this sense, is unique and thus each child has the right, not the need, to be taught individually at small group time activities in all domains of development.
This allows our Orlando preschool, The Learning Center of South Park to set up one goal for each child to develop the weakest skills recognizing the intrinsic relationships of all skills in all domains thus propelling the development of the other skills.
The early childhood learning program at The Learning Center of South Park incorporates a formal classroom environment with a dedicated, nurturing, and playful home-like setting. From a traditional preschool to a full-day child care center, The Learning Center of South Park takes care of the child's academic and social/emotional needs.
From its basis on the Reggio Emilia concept, our Orlando preschool encourages the children to develop and offers them ways to regulate their emotions effectively. For us, this is an essential part of the educational environment at The Learning Center, where teachers work diligently to present opportunities for our children to learn and grow as well-rounded youngsters.
As part of this process, our Orlando preschoolers also go through a daily schedule that allows them to play and explore with their peers in ways that are both safe and productive. Whether outside with the use of our beautiful playground or inside exploring different centers throughout The Learning Center South Park, there is always an opportunity for your child to learn and grow.
That is why we challenge our young learners every day, not just in the academic sense but also through exposure to new experiences that enable them to see the world from a different perspective. In this way, The Learning Center of South Park offers Orlando preschoolers an opportunity for genuine learning while keeping their playtime fun and interactive through a well-balanced early education program.
What Makes Us Stand Out from Other Orlando Preschools?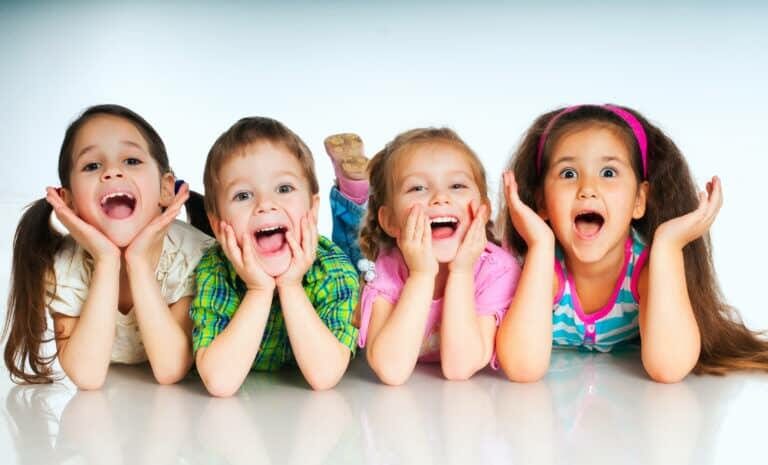 That's easy – it all boils down to our love of children. Every member of our staff loves kids, has a passion for early education and enjoys working with their peer groups to create a safe, stimulating, and constructive learning environment. We take great pride in what we do here at The Learning Center of South Park because no matter the age of children in our care, there is nothing more valuable than early education.
We understand that children enter their first Orlando preschool or  "little school" with minimal experience with other children and teachers. Teachers' one-on-one attention and learning with other children play a significant role in shaping young minds.
The following features set us apart from traditional daycares, schools, and other early education programs.
We designed our curriculum to focus on what is of interest to children at each age group, because from a teaching perspective, it does not matter if we discuss dinosaurs or boats and trucks. Indeed, here in our Orlando preschool, if we discuss a topic of interest to children, it is not gaining some knowledge about that topic that matters.  It is  the skills we are developing while discussing that topic that is important. The knowledge at that age is irrelevant as it is what a child learns on his own.
The developmental level of our preschoolers ranges from infant to 5-year-old, allowing children in our care to develop both academically and socially. We believe that learning can and should happen as early as possible – there's no need to be tied to a start age of 2 years old! And yet, we believe in letting the child dictate when the timing is right for them to progress.
At The Learning Center of South Park, we introduce your preschool children to basic early concepts that will set them up for success in Kindergarten, including counting, colors, shapes, and the alphabet. As their skills evolve, so does the complexity of our lessons.
Our program nurtures and teaches each child as an individual at their own pace! We provide opportunities for children to learn through play and outside games in a hands-on learning environment. Our teachers constantly observe and interact with your child, assessing them individually and noting their progress in the classroom. When a child reaches a milestone, we celebrate!
Our lessons are current and teach skills that children will use beyond playtime. As your child progresses through our curriculum, you'll see them learn about real-world topics such as recycling, how to care for others, cause and effect, learning shapes and colors.
Your child in our Orlando preschool will be encouraged to learn in a fun environment while also building friendships with their classmates. We believe that children should feel comfortable and express themselves while learning in a nurturing atmosphere free of judgment.
What Makes a Great Preschool Teacher?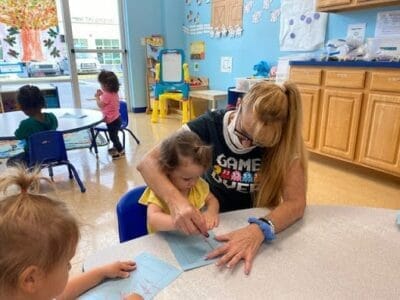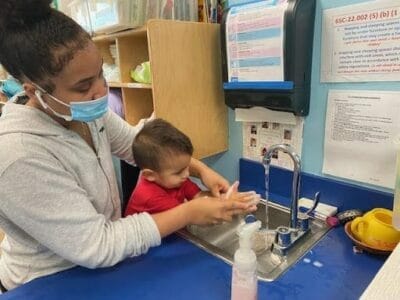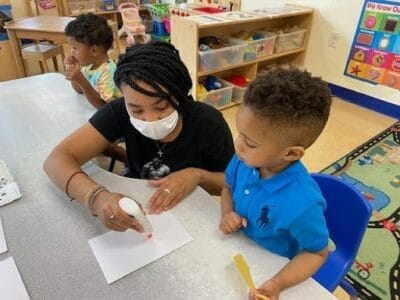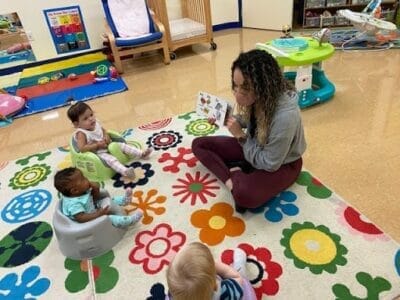 At The Learning Center of South Park, we believe that your child's education is only possible if you are fully engaged in the process. Our preschool is more than a caring environment where your child comes to learn – it is a learning experience. If you are the kind of person who likes to know what's going on, this is the preschool for you.
Inside our Orlando Preschool, we value strong communication with you as parents and seek to offer flexibility regarding childcare needs while always prioritizing your child's safety, happiness and well-being. We want you to be involved and informed about what your child is learning and doing throughout the day.
Our teachers are the core of our program. They are trained to inspire your child with a love of learning that will last well into their school years. Our preschool teachers have extensive experience working with children, but it's more than just putting in time at the front of the classroom – they all work hard to understand each student as their own. We believe that teachers should be knowledgeable about early childhood education and have a passion for developing little minds and hearts.
The Learning Center of South Park and your child's preschool teachers celebrate every milestone and enjoy watching our preschoolers learn. We are proud of the work they do every day and delighted when parents notice their progress!
Structured Teaching that Flexes to Your Needs
Our Orlando preschool has an established and highly respected curriculum – and yet we still manage to be one of the most flexible and accommodating schools in Orlando.
Uniquely among preschools in Orlando, we can accommodate the specific hours you need. While we offer regular morning and full-time sessions, if you prefer to start a little later or pick up earlier, we can help you with that – and can scale back the rate in line with your reduced hours. Unlike any other school in Orlando, we will define a program specific to your working program – so it works for you, rather than having to work around the school's schedule.
As a better alternative to a traditional daycare center, The Learning Center of South Park helps your child thrive and grow. We offer them a wonderful environment to develop academically and socially while also remaining safe during the hours you have to work or want some time for yourself.
See What Parents Are Say About Our Orlando Preschool

Rocio Christina
I absolutely love this center. My daughter was here for prevpk and VPK. The facility is always clean and prioritizes the health and safety of the children. The teachers are always so kind and care for each child. My daughter graduated from VPK this year and still talks about her teachers and how much she misses them. This is a place that cares and I'm so grateful my child was able to get her early childhood education here.

Clifton Picton
Trust is key when looking for a daycare to watch over a child, we all know and have heard the horror stories behind some daycare mishaps, rest assured TLC, the staff and owners have earned my trust, I have the utmost gratitude towards my experiences there, and can sincerely say that it has been worthwhile for us and our child as he has made significant progress with regard to learning.Thiswas new for us, being our first child, so it was especially hard to accept leaving our son anywhere, TLC has specific institutions tailored towards that very emotion, which helped us transition smoothly into this phase of parenting. So if you are looking for a top notch, trustworthy, daycare, The learning Center of South Park is your go to destination.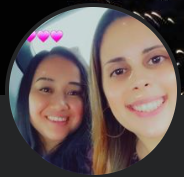 Arielys Ayuyu
My son recently started VPK at TLC of South Park, and he loves it so much! He is learning something new everyday and having so much fun that he doesn't want to come home sometimes. We love how clean the facility is. Also love the indoor playground which means even on rainy days or too cold days, there's still play time! Thank you TLC for taking great care of my son and getting him ready for kindergarten.
Our Orlando Preschool Numbers Are Rapidly Filling Up
The Learning Center of South Park in Orlando has a limited number of spots and is filling up quickly. There is already a waiting list for some rooms and age groups.
Book a free consultation with Director Helen Batie by clicking on the icon below today.
It's free, and there's no commitment to participate. As the saying goes, "first come, first served." Your little one will have the most excellent opportunity of attending our Orlando preschool if you sign up as soon as possible.
Come and See for Yourself!
There are a lot of outstanding preschools, and every child is unique. Finding the right preschool for you is not always easy.
In Orlando, we offer a unique preschool experience that is a perfect fit for your child. Our goal is to make you feel comfortable from the start. To know other parents' experience with our Orlando preschool, feel free to check their great reviews in our Facebook.
Contact us today to set up a tour!